---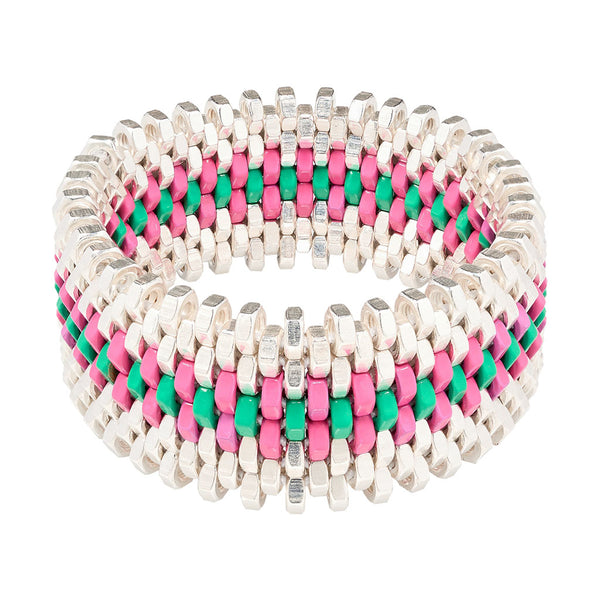 Pheobe
---
Alice's Pink and Green cuff collection combines emerald green with candy pink powder coated nuts, to give a striking, Stand out look. These shades juxtapose the gold and silver beautifully.
Whilst the gold combined with emerald green and a flash of pink, purveys a rich and opulent style, the silver teamed with pink and green holds a cool contemporary feel.
This unique piece of jewellery is beautifully handcrafted and comfortable to wear.
Handmade
Silver plated mini brass hexagonal nuts and green and pink powder coated brass hexagonal nuts. Woven onto elasticated cord.
Small - 16.5 cm circumference
Medium - 17 cm circumference
Large - 17.5 cm circumference
Depth 2.8 cm
Cuff is flexible and will stretch over wrist
Note on cuffs: The look and feel of an Alice Menter cuff will vary depending on the size of hexagonal nuts it has been crafted from. We use tiny nuts (mini) for a finer, more intricate finish or slightly larger nuts (midi) for a bolder, solid finish. Click here for a visual guide. 
---
More from this collection